"My name is Chris, I'm 55 years young and have a new career. Re-entering the working world was difficult for this stay at home mom. I wanted a change and decided to become a nail technician. I signed up for classes at Academy of Nail Design in Omaha Nebraska. Susan Cap is a knowledgeable nail technician and a wonderful teacher. Not only did Susan make it easy and fun to learn, she also prepared me to pass my state test. I learned nail health, manicures, pedicures, application of different nail enhancements, art, and even business. I am forever grateful I took this step, but even more thankful to have met Susan Cap. I can now say I'm a Licensed Nail Technician! Thank you Susan for making my dream come true!"
-Chris W
---
"The Academy of Nail Design is an AWESOME school. I can't believe at the young age of 53 I could learn so much in just 300 hours. Susan was an amazing teacher and I can't thank her enough for all that she taught me. She had a way of explaining things in such good terms that it made me understand everything she taught. I am starting my own business in my town and can't wait to get started on my new journey. It's because of Susan and her passion for nails that I was able to learn from one of the best in the field. Thank you so much for all you did for me and all that you taught me. I am beyond blessed to have been able to learn from your knowledge. You are an inspiration and I'm proud to have met you and proud to have received my graduation certificate from such a prestigious school. Thank you so much!!!!!"
-Michelle May
---
"Hello! My name is Joslyn Morford and I was a student of Susan's in 2014. She is an amazing, hands-on instructor. She is clear, well spoken and a joy to be around. She was the best choice I could have had made regarding my education because of her knowledge in the beauty industry. I have been blessed with many opportunities in this industry and I credit it to Susan Cap. Her teaching skills help to mold new nail techs to be very talented and well taught."
---
"The instructor, Susan, is very helpful. She will do whatever it takes to help you understand the criteria given. She also makes sure you're prepared for your state board test in a timely manner."
---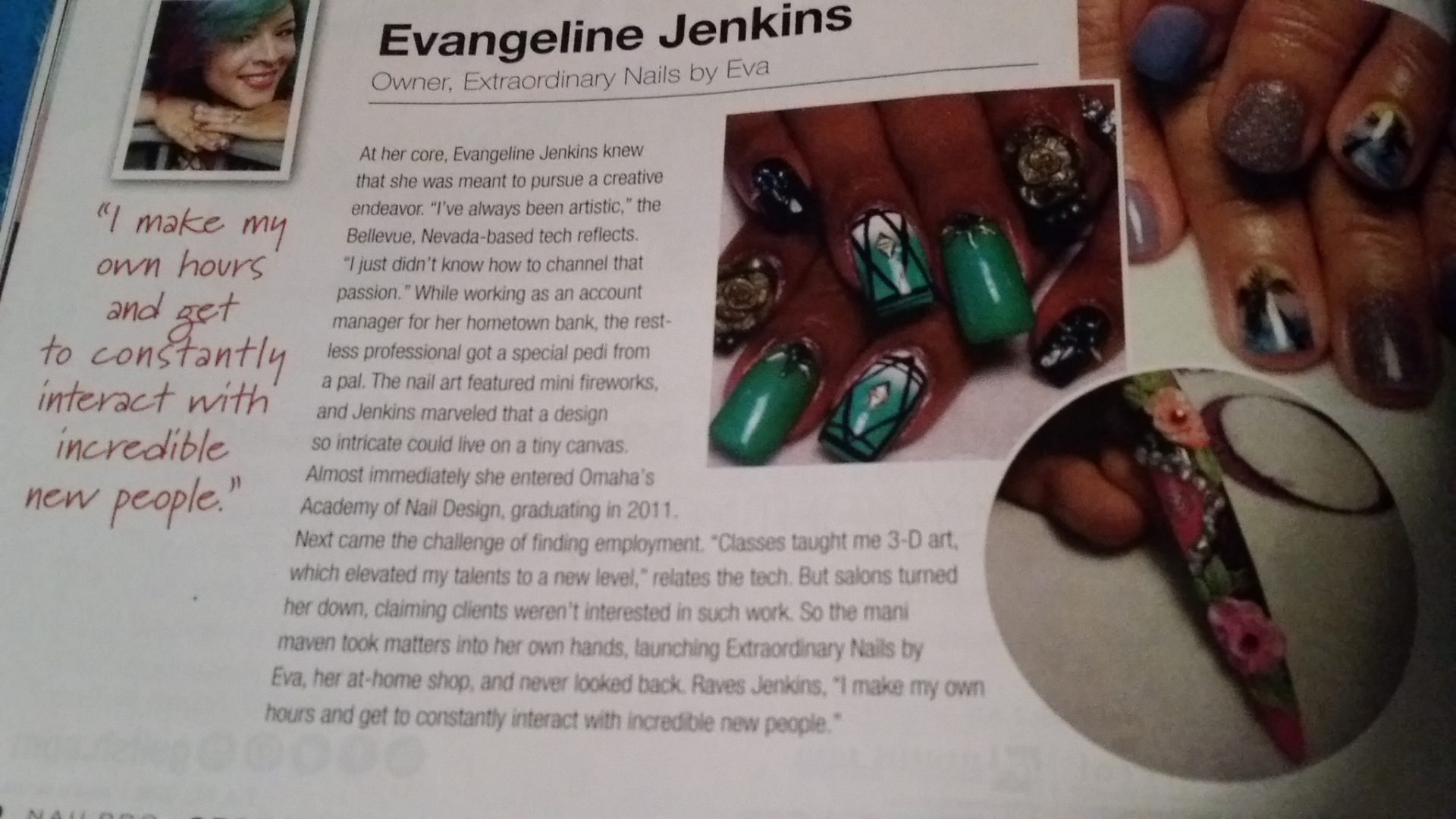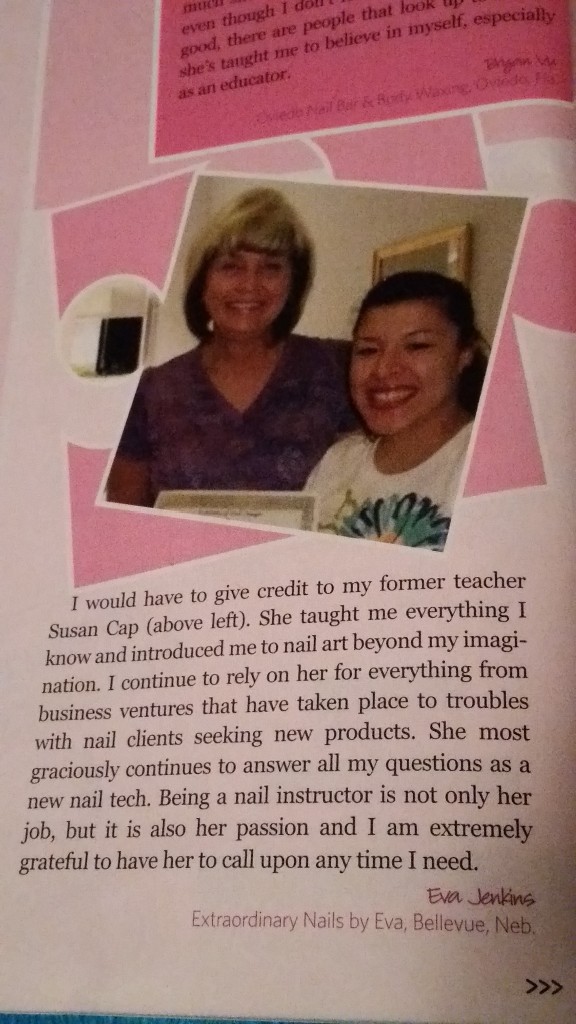 "I had an unfortunate accident that left me having to change my career at 50 years old. I came to Sue to sign up for nail tech school and felt so comfortable with her. She assured me that you're never too old to go back to school.
When I first started I was nervous and hadn't studied in over 38 years! Sue is the greatest teacher. She sat down with me one on one and gave me the confidence that I needed. She also teaches you many different types of designs and goes out of her way to make sure you learn the correct techniques, while keeping it fun and exciting. Thanks to her, I can now have an amazing career.
I know if I need Susan, she will always be there to help me or guide me in my career. I give her and her school a 5 star rating. If you aspire to be a nail tech, this the best school for you and your new career. When you graduate you will be one of the best!"
-Deedee Belcher
---
"Hi my name is Yessica Herrera and I was a student of academy of nail design in July 2014. My experience there was great from the day I walked in to the day I graduated. I remember the day I came in Susan welcomed me in made me feel very comfortable. The girls that were currently attending were very nice and welcoming as well. Learning at academy of nail design was a great experience , Susan's techniques were just right for me she was always there to help and is hands on. I still keep in touch with Susan and even though I have already graduated a year later I can still contact her for questions. She is very dedicated and does not mind to assist you with anything you might need help with.
Thank You So much Susan I miss you dearly and I'm glad your still there for me to run to for help !! :-)"
---
"I'm so glad Susan was my teacher. She helped me see how blind these nail businesses are. Customers don't ever know what they're getting because nail techs don't tell them what they have. I think any customer would love me because they always tell me everything that they like about me, during many of my services at the Academy of Nail Design. They only love me because of what the Academy taught me!! I feel like I talk about nails and fungus every day!"
– Duy Vo